I feel like I have really dropped the ball on my home decor posts. When we bought out house I did a home tour a few months later but SO much has changed since then! When I saw that my friend
Rachel
had today's
Top 5 Tuesday
topic at home decor I decided to join in on the fun!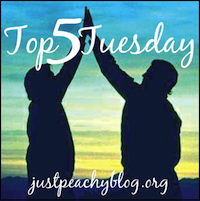 1. Leopard Print anything, preferably stairs. We own our home so this would be easy to do, however, try convincing the male of the house that this is necessary! I love our stairs but it's also not the perfect staircase to do this on, maybe our next home?
2. A neutral and bright bedroom, I have always wanted a totally monochromatic, neutral, but "bright" bedroom. This picture captures my vision perfectly. Neutral colors, bright lights, and girly accents. I just die over this room, I know it is far from realistic but a girl can dream!
(source unknown)
3. Gold pillows, lots of gold pillows, different shapes, styles and prints! I recently purchased a linen, tufted storage bench for our living room, I plan to use it also as extra seating when we need it so it needs pillows! I am still on the hunt for the perfect pillows but I love the gold theme!
4. A closet, not a huge, I turned a room into a closet, but just a nice walk-in closet. I want to be able to see everything I own without having to switch out seasons and stuff things into drawers! I really want to be able to see my shoes, all of them, not just some of them!
and this is what I currently have... I tried! If only it looked this put together everyday!
5. Fun, eclectic, different pieces! I love the few prints I have around the house that say fun things or remind people of stuff! I recently found this Charlotte print from
Paper Skyscraper
(in store only) and knew it had to be in our home!
Be sure to go link-up with Rachel and show off your home decor!